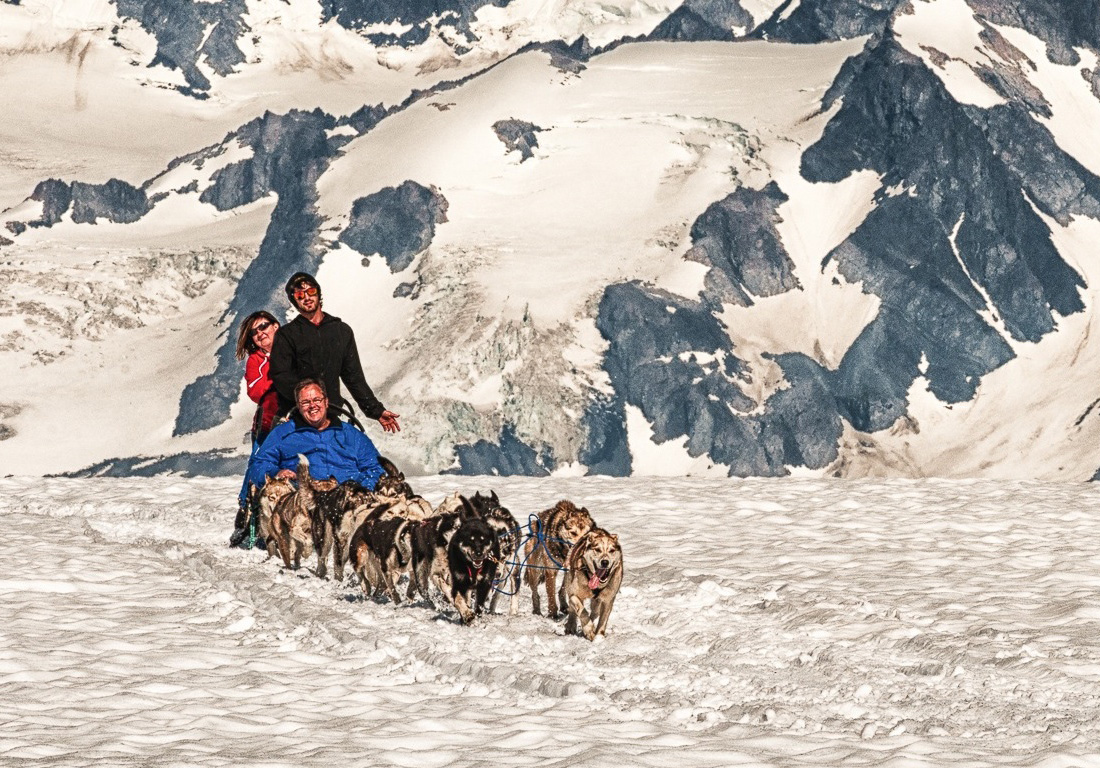 26 Oct

ALASKA DOG SLED TOURS AT SOLDOTNA B&B

A little snow never hurt anyone. Just because winter is peeking its head around the corner, doesn't mean we're not thoroughly enjoying the beautiful Last Frontier. While we're no longer accepting Alaska fishing trips this season, we're gearing up for highly-anticipated wintertime dog sledding at Seavey's. Soldotna B&B Lodge provides the best Alaska dog sled tours within 500 miles. These tours trek deep into the vast Alaskan wilderness with the help of the friendliest, toughest, and most gifted sled dogs on the Kenai Peninsula. We're one of the only hotels in Soldotna, Alaska, to have a working relationship with the most talented dog sled teams in the area. Whether you're looking for an authentic dog sled tour high on a beautiful glacier or a laid-back, backcountry UTA dog sledding experience, Soldotna B&B Lodge arranges exclusive, family-friendly rides.
Authentic Alaska Dog Sled Tours
If you're hoping to strap into an authentic dog sled pulled by a pack of strong, smiling canines high atop a stunningly beautiful glacier near Seward, Alaska, you're in luck! Alaska dog sled tours are available during the summer months on most days, depending on the weather. Not many Alaska fishing lodges provide adventure packages that include dog sledding. The friendly staff here at the Soldotna B&B Lodge always recommend this authentic tour in combination with fishing, whale watching, glacier viewing, and so much more! You'll start the journey with a breathtaking 10-minute flight to a nearby dog camp at Godwin Glacier. On your trip, you'll get to witness nearly every crevice of the glacier. Godwin Glacier always has some of the freshest powder in the region. Every rider will have the chance to cuddle with the lovable pups before returning to the lodge.
UTV Dog Sledding in Alaska
While not "authentic," the 2.5-hour UTV dog sled tour is a terrific alternative for those hoping to meander through the vast Alaskan wilderness, learn about the Iditarod, and meet a family of adorable sled dogs. Your Polaris Ranger UTV will be pulled by sled dogs (with the help of a little gas). During the scenic journey, you'll learn about the life of a dog sled champion from the Iditarod-winning Seavey family. You'll be amazed at how much preparation goes into winning the world's "last great race." The sled tour ends with pictures, entertainment, and stories at the sizable Seavey racing kennel.
Hotels in Soldotna, Alaska
We're happily one of the only four-season Soldotna lodging options. Visit us this winter for a discounted stay at our beautiful bed and breakfast! Dial 1-877-262-4779 to learn more about our all-inclusive packages, dog sledding, and next year's fishing availability.