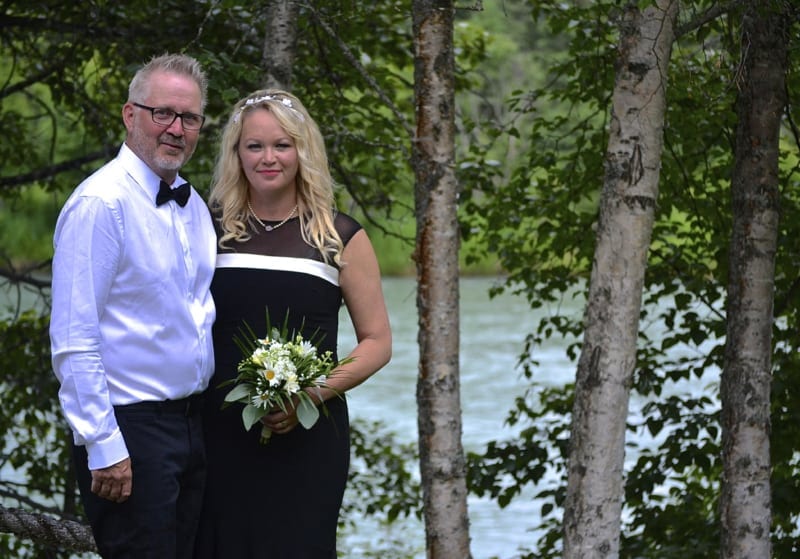 22 Jan

ALASKA WEDDINGS AT SOLDOTNA B&B LODGE

There's just something special about Alaska weddings; perhaps it's the fresh mountain air, the soothing sounds of a rushing river, and the beautiful natural landscape. Every year, thousands of couples choose the Last Frontier as their destination wedding locale. We've helped plan weddings for couples from Sweden, Japan, Switzerland, and, of course, the United States. Is there a better place to recite your heartfelt vows than near the banks of the teal Kenai River in Soldotna, Alaska? Soldotna B&B Lodge provides brides and grooms with the entire package: a picturesque ceremony locale, on-site catering, a spacious reception area, overnight accommodations, and, of course, a head-start on your honeymoon!
Riverfront Ceremony
Say "I do" in Soldotna B&B Lodge's backyard, which is enclosed by tall trees, the rushing Kenai River, and the soothing sounds of the Alaskan wilderness. Our caring, experienced wedding staff can help plan your dream destination wedding. We can help find a local officiant, a beautiful hand-carved arbor, and fresh flowers.
Photos to Last a Lifetime
After your heartfelt ceremony, pose for photos that will last a lifetime. The backyard at Soldotna B&B Lodge is a popular choice among newlyweds, thanks to our lush foresty and riverfront access, but don't be afraid to think outside the box. Hop aboard a boat, pose by our grand stone fireplace, or head down to Soldotna Creek Park. After riverside photos at the park, grab a pint of craft beer at Kenai River Brewery before indulging in first-class catering back at the lodge.
Memorable Wedding Reception
We offer full catering for Alaska weddings of all sizes. Give us a call today at 1-907-262-4779 for complete entree, appetizer, and drink menu options. Many couples choose the freshly-caught salmon and halibut to go along with fresh vegetables, mashed potatoes, and rice pilaf.
Convenient On-Site Lodging
The amazing thing about Alaska weddings here at Soldotna B&B Lodge is the fact that you and your guests will never have to leave the property on your big day. Pose for pictures, recite your vows, enjoy a delicious dinner, celebrate with friends and family, then stroll to your romantic guest room. We have 16 guest rooms in total, which perfectly fits small Alaska weddings. For those planning on eloping in Alaska, just give us a call to set up an elegant elopement or vow renewal.
Start Your Honeymoon in Soldotna, Alaska
Alaska weddings are special because the honeymoon can start seconds after saying "I do." Start your honeymoon the very next morning by salmon fishing, whale watching, bear viewing, or birding in Alaska. Soldotna is ideally situated on the Kenai River near the very best fishing hot spots and some of the most beautiful places in Alaska, including Skilak Lake, Kenai Fjords National Park, and Resurrection Bay. Please give us a call today at 1-877-262-4779 to learn more about our riverfront property, wedding packages, and Alaska fishing charters.