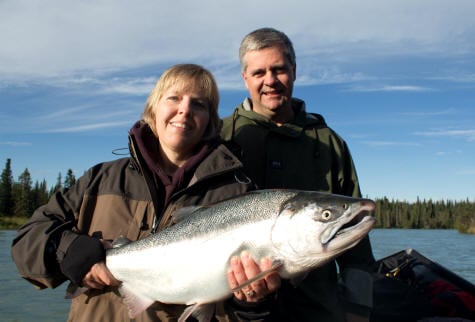 26 Feb

COUPLES THAT FISH TOGETHER, STAY TOGETHER

In current times, there are a lot of things in life going on to the point it seems impossible to spend quality time with the one you love. Everyone has work, school, kids programs, book club, and everything in between. Surprise your love with something that will be sure to bring you closer again. Soldotna Bed and Breakfast Lodge invites you to their fishing lodge Alaska for an unforgettable trip out with your better half.
Quality Time
Spending time together is an essential factor in any relationship. A fun fishing trip out on the Alaskan waters is a perfect way to spend some time away from the hectic happenings of life at home. Grab your fishing gear, take your honey by the hand, and head out to Soldotna for an epic adventure together. Cast some lines and enjoy an Alaskan fishing excursion together.
A Little Friendly Competition
Sometimes a little competition with your better half keeps things interesting. With participating in a sport like fishing, you can place your "bets" and see who can reel in the best catch. There are multiple kinds of fish you could pull up from the waves. Make a fun scavenger hunt with things like each fish, different Alaskan wildlife, the heaviest catch, and other fun ideas on a list. See who can cross the most off and who ends up with the best catch.
Make Memories
When the two of you are out and exploring with your guide, snap some fun pictures of your excursion. Once you return home, you can then take those photos and add them into a memory book. Then you can take it out and look back on all the fun you had at our fishing lodge Alaska. You can even leave room to add more adventures to your book and begin a new tradition!
Visit Soldotna Bed and Breakfast Lodge for an incredible fishing trip for two. After all, couples who fish together, stay together. That is our theory anyway! Give us a call and let us help you set up an unforgettable outing for you and your love.