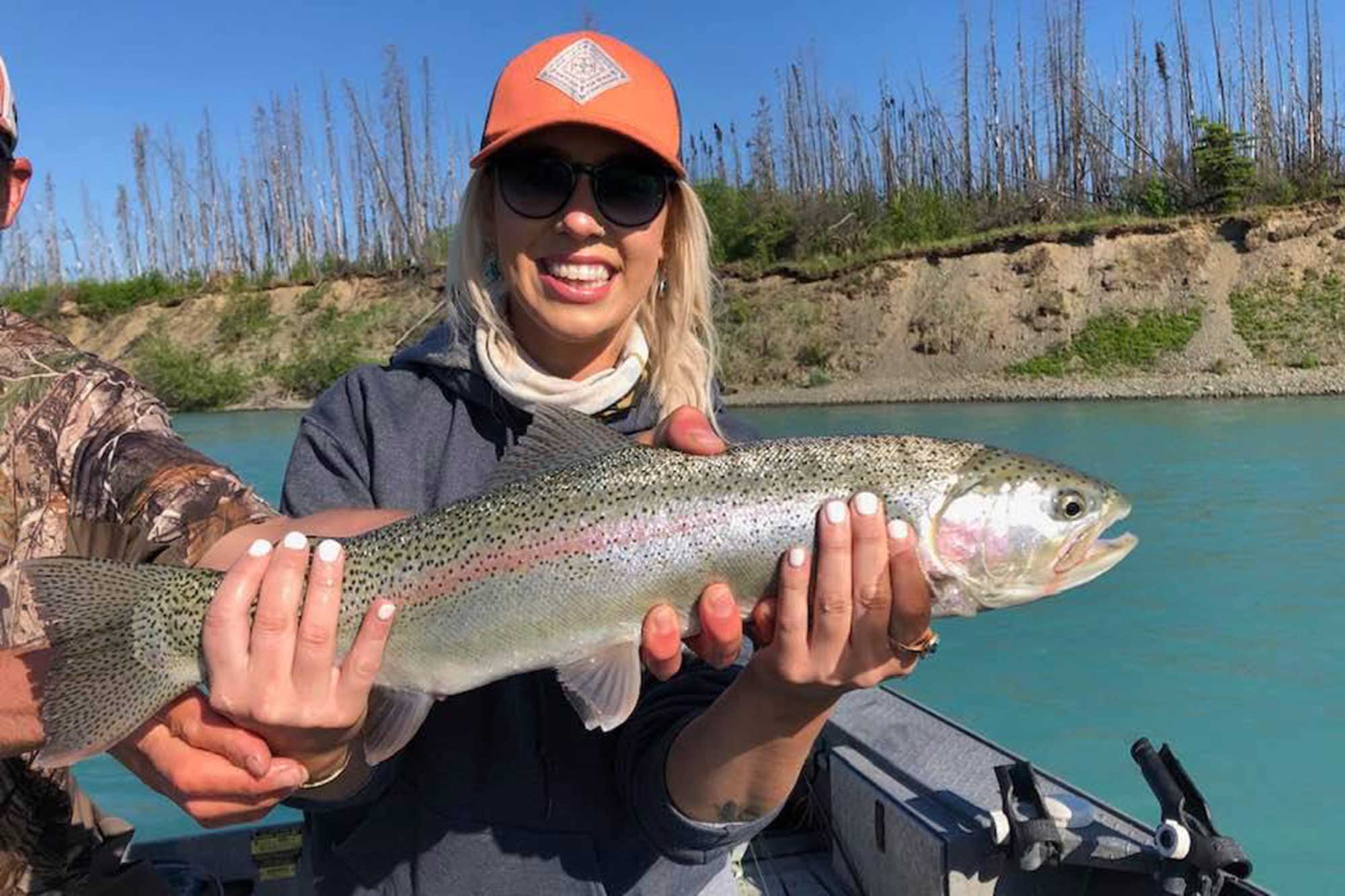 25 Sep

LATE-SEASON ALASKA FISHING TRIPS: Last Call For Anglers

With summer officially in the rearview mirror, we turn our gaze toward autumn's peak here on the banks of the beautiful Kenai River. Despite dipping temperatures and changing leaves, there are still several weeks of prime fishing left on the calendar. Yes, the Kenai Peninsula's dense forestry transforms into a colorful blend of marigold, kelly green, and emerald every autumn. But the main event is our fully-customizable Alaska fishing trips, which target silver salmon, rainbow trout, and a few other thriving species. And the best place in Soldotna, Alaska, to start and finish your day is at Soldotna B&B Lodge and Alaska Fishing Charters.
Our experienced, professional Alaska fishing guides will ensure that your well-deserved wilderness getaway is nothing short of flawless.
World-Class Alaska Fishing Trips
We offer something genuinely unique here in Soldotna: first-rate hospitality, a convenient location near dozens of restaurants, and, of course, world-class Alaska fishing trips. Today, we're going to provide you with an in-depth look into the three species that we target in October: silver salmon, rainbow trout, and steelhead trout.
The Feisty Silver Salmon
As the years go by, more and more anglers specifically arrive in September and October to battle fierce, acrobatic Kenai and Kasilof River silver salmon. We offer dozens of customizable Alaska fishing trips here at Soldotna B&B Lodge, and our staff always recommend a late-season silver salmon excursion on the Kenai River. Our top-reviewed Kenai River lodge features 300 feet of private frontage as well as a sizable dock, so most Alaska fishing trips launch from here. But, we cannot blame you if a Kasilof River drift sounds like one heck of a fun time—because it is.
Football-Sized Rainbow Trout
The upper and middle Kenai River's swarming rainbow trout are so large that we call them "footballs," as the photo on the right illustrates. You won't find a more productive fly fishing destination in the world as all of our late-season Alaska fishing adventures return to the lodge with memories (and photos) that will last a lifetime. While Kenai River rainbows typically sit in the two-to-six pound range, anglers often bait, hook, and reel in ten-pounders. In fact, a 13-pounder was caught right outside the fishing lodge as recently as last year. One of the less-talked-about aspects of our late-season Alaska fishing trips is that we occasionally spot wildlife during our journeys, including brown bears, bald eagles, and moose.
Walk-In Steelhead Trout Excursions
Yes, we offer guided drift boat excursions on the Kasilof River that target steelhead trout, but we recommend venturing into the bush en route to a secluded body of water. Some of the most popular mid-October Alaska fishing trips involve several hours of fly fishing at Deep Creek, Ninilchik River, or Anchor River. The DNR does not stock these rivers, so you'll be reeling in fully-grown, all-natural lunkers. To ensure that they continue to thrive, steelhead fishing is strictly catch-and-release.
Selecting
 

the Best

 

Alaska Fishing Packages

Soldotna B&B Lodge remains one of the premier Alaska fishing lodges on the Kenai Peninsula thanks to our world-class guide services, idyllic location, and warm hospitality. Contrary to popular belief, October is the best time to fish in Alaska as the summer crowds have dispersed, the colors are vibrant, and the fish are always biting! To learn more about Soldotna, AK, the Kenai River, and our Alaska fly fishing trips, please give us a call today at 1-877-262-4779.