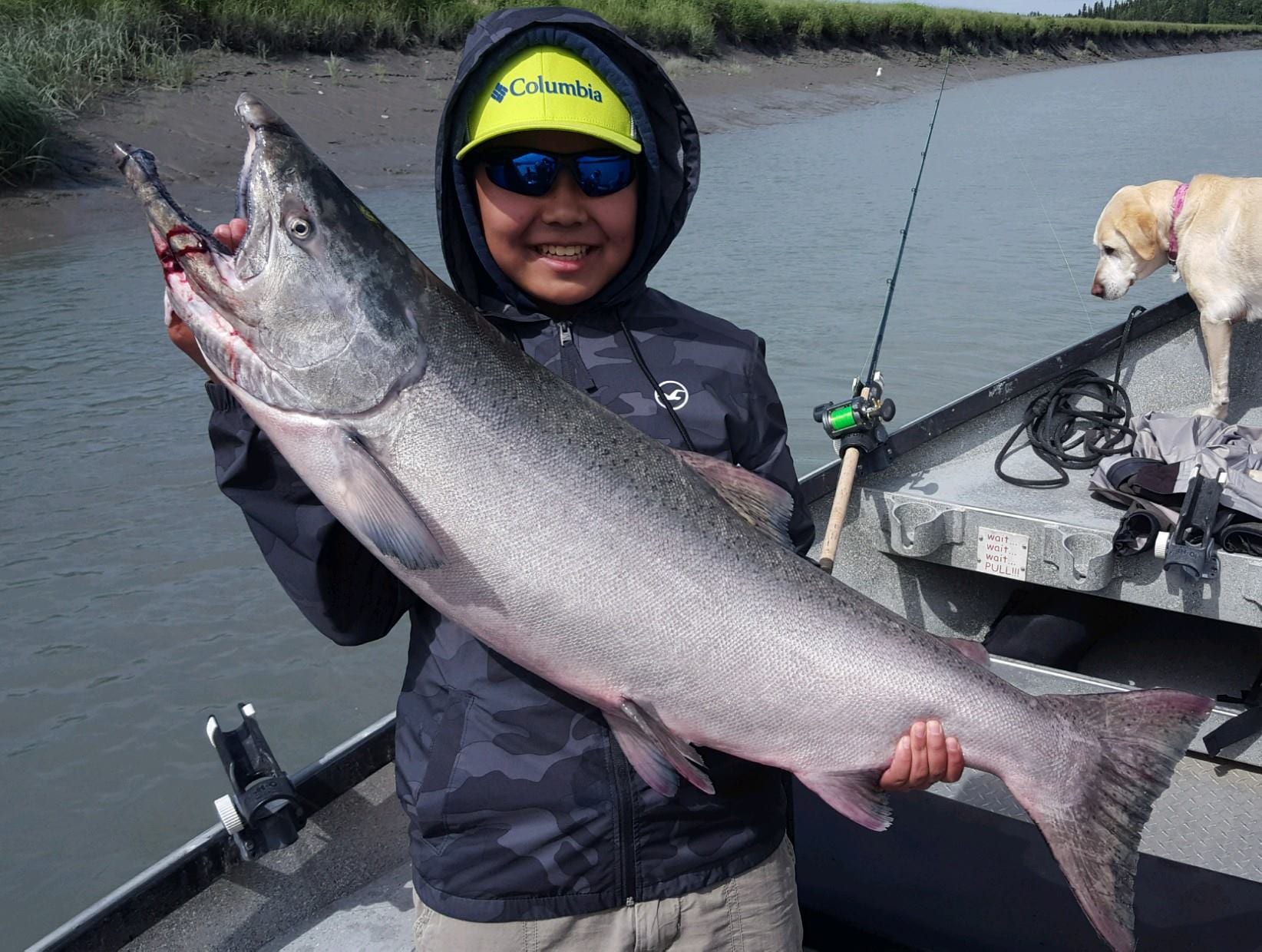 30 Apr

MID-SUMMER ALAKSA FISHING VACATIONS ON THE Kenai River

  There's still time to book a once-in-a-lifetime fishing trip to the Kenai Peninsula here at Soldotna B&B, the top-rated Alaska fishing lodge on TripAdvisor. Families, groups, and couples choose Soldotna B&B time and again because of our ideal riverside location, comfortable accommodations, and, of course, our world-class Alaska fishing packages. Where else in the world can you discover a family-owned and operated bed-and-breakfast that provides guided fishing trips, wilderness excursions, and all-inclusive packages?  
Whether you're hoping to hook trophy kings, beautiful rainbow trout, or feisty silvers, you'll quickly discover why Soldotna B&B Lodge is revered for providing anglers from across the globe with premier Alaska fishing vacations.
Summer Catches: Fish of the Kenai River
Depending on when you arrive on the Kenai Peninsula, our guides will target three salmon species (king, sockeye, and silver) as well as trophy rainbow trout. First and foremost, most anglers who arrive between early May through July have massive king salmon on their minds. We especially recommend visiting us from mid-June through late July as you'll get to battle kings, sockeyes, and rainbows! After you've reached your limits on salmon, you'll have an opportunity to spend some time fly fishing for rainbow trout along the Kenai River's shallow banks. Once the king season ends on the last day of July, the much-anticipated silver season begins. Silver salmon are known as the best pound-for-pound fighters in the salmonoid family – they put on quite an acrobatic show after they've taken the bait!
King salmon: May 1 – July 31
Sockeye salmon: June 10 – August 15
Silver salmon: August 1 – October 31
Pink salmon: August (on even years)
Rainbow trout: June 12 – October 31
The Best Alaska Fishing Packages
Nothing truly compares to an Alaska fishing vacation on the world-famous Kenai River. You'll quickly fall in love with our jaw-dropping snow-capped mountains, dazzling turquoise water, and monster salmon here in Soldotna, Alaska. It only took a matter of seconds before we realized that our riverfront location is special, which is why we hastily started piecing together dozens of packages ranging from three to seven nights in length. Here are five of our favorite packages:
Fisherman's Fantasy (Fishing Pure)
Fly Fishermen's Fantasy (Fishing Pure)
Everything but Kenai Sink (7 Nights)
Catching Kings (Fishing Pure)
River, Sea, and Air (6 Nights)
Thrilling Alaska Fishing Vacations
Our meticulously-planned Alaska fishing vacations include lodging, breakfast, lunch, bait, tackle, gear, guide services, and so much more! And don't forget that nearly all of our Alaska fishing vacations also include wilderness adventures such as bear viewing, whale watching, and dog sledding. Start each morning with a steaming cup of fresh-brewed coffee and a hearty, homemade breakfast before venturing onto the premier fishing river in North America. You'll return to Soldotna B&B Lodge each evening with your limits reached, a wide smile, and stories to share for the rest of your life! After strolling to a nearby restaurant or grilling fresh-caught salmon on our back deck, gather with friends new and old in our spacious yard to tell tales of the day's best battles. To start planning a once-in-a-lifetime Alaska fishing trip to the Kenai Peninsula, please visit us online or give us a call today at 1-877-262-4779.