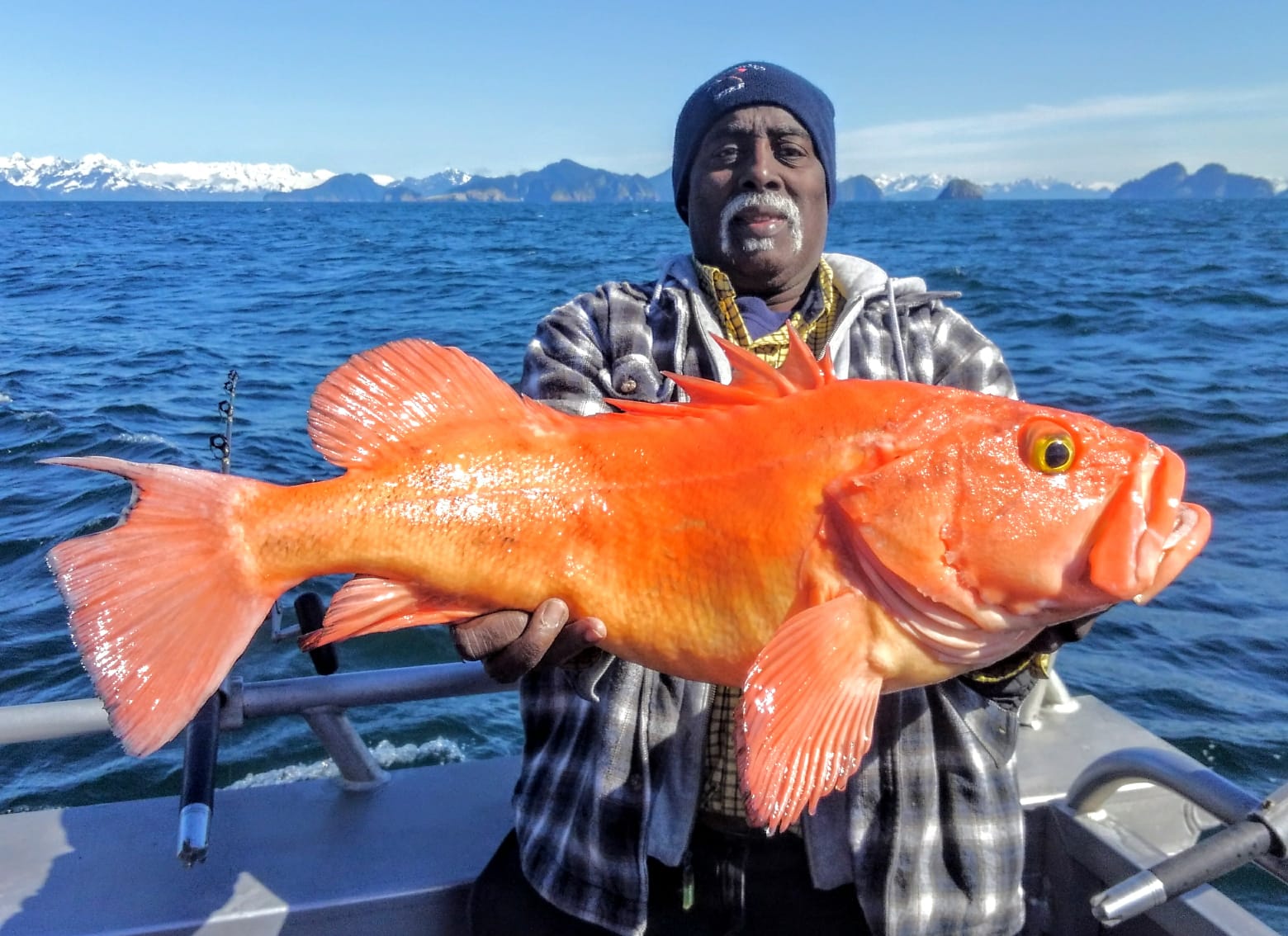 24 May

SUMMERTIME SALTWATER ALASKA FISHING ADVENTURES

The much-anticipated fishing season is finally upon us here at Soldotna B&B Lodge as we're beginning to welcome groups of anglers from far and wide to our heavenly slice of the Kenai Peninsula. Most visiting anglers who visit Soldotna, Alaska, have been dreaming about catching a trophy king salmon since they were young, but one of the most overlooked fishing locales in our region is the crisp Pacific Ocean waters near Homer, Alaska.
Guests can hop aboard sturdy, state-of-the-art vessels in search of "barn-door" halibut, saltwater kings, rockfish, and many more delicious species. Summertime Alaska fishing adventures near Homer are incredibly tough to beat if you're hoping to combine natural beauty, wildlife viewing, and, of course, unforgettable battles with the creatures from the deep blue.
Here's a quick rundown of what you can expect this summer during your well-deserved, annual Alaska fishing vacation to Soldotna B&B Lodge!
Saltwater Salmon
Many Alaska fishing adventures are geared toward king salmon because of their sheer size. Successfully baiting, hooking, and reeling in a monster king is a feeling unlike any other – it's a moment that's often mounted on a wall or framed on a mantle. You don't have to venture onto the Kenai or Kasilof rivers to battle a king, silver, or pink salmon as they're teeming inside the sapphire blue waters surrounding Homer. We typically troll for salmon during these oceanic excursions, but we occasionally jig in our favorite honey holes.
"Barn-Door" Halibut
Homer remains "The Halibut Fishing Capital of the World" as thousands of anglers trek to this faraway land to catch some of the largest flatfish in the world. While halibut weighing in over 200 pounds have been documented, we set our sights on those who weigh between 20 and 50 pounds. The halibut in this weight class are not only swarming inside Cook Inlet, but they're the tastiest of the bunch. Bottom fishing is the method of choice in Cook Inlet, and we'll be using baited hooks to lure these crafty flatfish.
Rockfish and Black Bass and Lingcod, Oh My!
The ugliest fish in Cook Inlet near Homer are – without a doubt – the tastiest species in the sea. Rockfish can be quite beautiful when they're small and bright orange, but the whoppers that are teeming in our waters frequently vary in size, color, and shape. You won't find better table fare than a rockfish hooked inside Cook Inlet. Lingcod, meanwhile, are terrifying to most as their sharp teeth and unique scale patterns make them look like real-life monsters. While black bass are certainly not overly ugly, they're quite large in comparison to most bass species found across North America.
Mid-Summer Alaska Fishing Adventures
Our riverfront Alaska fishing lodge rests upon a quiet, scenic stretch of the Kenai River within walking distance of Soldotna's best restaurants. We have the top-ranked Alaska fishing vacations on TripAdvisor, primarily because of our first-rate guiding services, affordable packages, and supreme hospitality. Start planning your mid-summer, all-inclusive Alaska fishing trip to Soldotna B&B Lodge by giving us a call today at 1-907-262-4779. We still have limited availability this summer, especially for those aiming to visit us during the highly-anticipated silver salmon season!