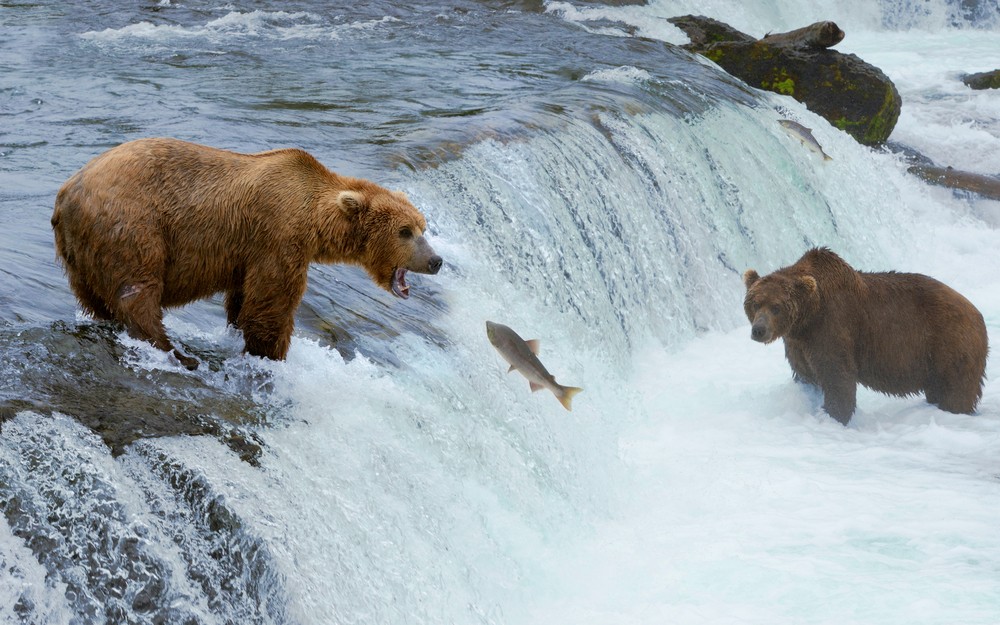 26 Sep

THE BEST FLY-OUT TRIPS IN SOLDOTNA

Very few fishing lodges in the vast state of Alaska can match what Soldotna B&B Lodge brings to the table. Most Kenai Peninsula lodges offer the bare minimum: overpriced fishing, warm meals, and a tiny bed. Soldotna B&B is a family-run lodge that is devoted to providing prospective anglers with ultimate Alaska fishing trips. Not only do we have jam-packed fishing packages with whale watching, bear viewing, and canoe trips, but our prices genuinely cannot be beaten. Our fly-out tours lift our guests to some of the most beautiful locales in the world, including Crescent Lake, Katmai National Park, and Kenai Fjords National Park. It's not too late to book a once-in-a-lifetime fishing excursion on the famous Kenai River – and hop aboard these three fly-out tours while you're in the neighborhood!
Crescent Lake – Lake Clark National Park
Crescent Lake never gets old, no matter how many times we visit this natural paradise. This beautiful lake is not to be confused with the stunningly clear Crescent Lake in the Kenai Mountains near Cooper Landing. Depending on the season, you'll have the opportunity to throw a line in for sockeye salmon, silver salmon, Dolly Varden, and lake trout. The flight from Soldotna crosses Cook Inlet to Lake Clark National Park, taking approximately 45 minutes in total. You'll land smoothly on the turquoise Crescent Lake in the heart of the Chigmit Mountains. You'll get a birds-eye view of the 10,000 foot tall Mount Redoubt on the fly-out. A professional fishing guide will greet you upon arrival. Brown bears often feed in the shallow waters on the perimeter of the lake, creating the ideal photo opportunity.
Wolverine Creek
If your goal is to get up-close-and-personal with a majestic brown bear, then Wolverine Creek is the ideal fly-out fishing adventure for you! The water is so clear on this secluded creek that you can see large schools of sockeye and silver salmon. This fly-out trip is quite crowded in the summer months but excessively beautiful in the fall. The 30-minute flight crosses Cook Inlet into the Big River Lakes region. Brown bears, and occasionally black bears, feed in the creek during spawning seasons. Wolverine Creek remains one of more distinctive Alaska fishing trips available.
Bear Viewing and Flightseeing
Soldotna B&B Lodge has dozens of unique packages, many of which include world-renowned bear viewing and flightseeing tours. These tours include a trip to the brown bear-occupied McNeil River in breathtaking Katmai National Park. Depending on the season, you'll also have the opportunity to fly out of Homer for trips to Lake Clark National Park, Kenai Fjords National Park, Hallo Bay, Kodiak, and Bristol Bay.
Alaska Fishing Trips
Our family-run operation offers dozens of customizable packages for expert anglers, nature enthusiasts, couples, bird lovers, and everyone in between. We treat every guest like family, earning us a 2018 Certificate of Excellence by TripAdvisor. Soldotna B&B Lodge provides world-class Alaska fishing trips with the personal touch of a bed and breakfast and the scenic beauty of a wilderness retreat. Dial 1-877-262-4779 now to learn more about our all-inclusive packages before the fishing season sadly concludes.